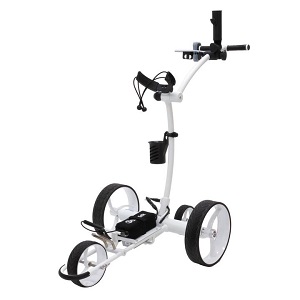 The HighDegree™ MC303RS has been selling since 2013 and now is one of the best remote golf trolleys in the golf market. Especially in North America. The MC303RS has 3 models in one trolley, remote model, electric push model, and free-wheel model, which can provide you enough freedom in your walking golf tour. And the latest Slope Control technology has been used in the MC303RS. It means you can easily control the trolley when going and down the slope.
Not only does the sleek design of this motorized golf trolley hide both motors inside the axle tube, but it also provides extra protection against the elements. The use of precision welded, aviation-grade aluminum creates the most rugged aluminum trolley frame. The HighDegree™ MC303RS makes use of efficient 24V high-torque motors, as well as a 12 Ah Lithium-Ion battery that lasts up to 36 holes depending on your course.
Features:
•Newly designed, programmable remote control with wireless pairing and Magnetic Mount.
•Slope Control: Active Steer Assist technology
•Four factory speed settings and potentiometer speed control
•Standard anti-tip wheel included
•Dual high torque motors and enclosed gearbox
•Weatherproof in wet conditions
•Quick transition to Free-Wheel Mode
•Available in black, gray, white, and traditional silver–powder Coated frame
•Various Accessories available: Adjustable Score Card Holder, Drink Holder, Umbrella Holder, GPS holder, and Trolley Travel Bag
•Two Year Warranty on the Trolley
•Two Year Limited Warranty on Battery
Technical data:
Motor: 24V 100W*2
Battery: 24V 9AH/12AH Lithium Battery
Autonomy: up to 36 holes in the most favorable conditions.
Dimensions:
Assembled weight: 14Kg. (w/ battery)
Frame Weight(quick detach wheels removed accessories attached): 10Kg.
Battery weight: 1.4Kg.
Folded dimensions:
•Without wheels: 25.75" wide x 34" long x 11" tall
•With wheels: 26.5" wide x 41" long x 12" tall